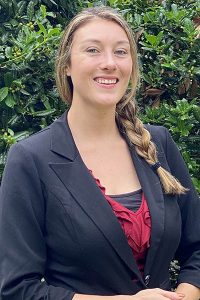 Dr. Sagan King has over ten years of experience, is a Licensed Clinical Mental Health Counselor. She received her bachelor's degree in psychology and master's degree in professional counseling from University of the Cumberlands. She additionally has a master's and doctorate degree in clinical psychology from The Chicago School of Professional Psychology in Washington D.C. Dr. King has worked in a wide variety of settings, including providing services in mental health centers and private practice, along with medical facilities, hospitals, correctional facilities, and schools. She has experience providing individual and group therapy, conducting psychological evaluations, and providing multidisciplinary consultation, assessment, and treatment. Her interests include personality disorders, forensic interactions, substance use disorders, anger concerns, trauma, behavioral disorders, women's issues, sexual disorders, anxiety, and mood concerns.
Intervention Style: Dr. King utilizes evidence-based approaches to therapy and intervention, emphasizing a humanist/existential, systemic, strengths-based, and trauma-informed style. Additionally, Dr. King is trained in Dialectical Behavior Therapy (DBT), Cognitive-Behavioral Therapy (CBT), Person Centered Therapy, Acceptance and Commitment Therapy (ACT), Psychodynamic (inner child, self-psychology, and object relations), Gestalt, Existential, Bronfenbrenner's Ecological Model, and Narrative Therapy. Dr. King works with clients from an integrated perspective with evidence-based interventions tailored to each client's presenting concerns, diagnosis, and unique background. Her primary work with each person is conducted via Person Centered/Existential therapy as well as Gestalt Therapy and Bronfenbrenner's Ecological Perspective. This approach allows Dr. King to place an emphasis on the human condition as a whole and allow each client to be the authority on their own experience. The Existential perspective has each client work towards the future and reconciling their holistic self in a way that allows the client to confront conflict inherent to life. The Gestalt therapy helps increase the person's awareness of their existing freedoms and self-direction and their inner awareness while healing from the past traumas. Lastly, her incorporation of Bronfenbrenner's Ecological Model allows her to consider all the systemic issues at play that have impacted and continue to impact the clients functioning. 
Therapy Experience: Dr. King has over ten years of experience conducing individual therapy with children, families, teens, and adults with a variety of challenges, including interpersonal and relational difficulties, parenting, self-esteem, sexual disorders, mood disorders, trauma, anxiety, and addiction/substance abuse. She has training and experience working with children, adolescents, adults, and couples with a wide variety of presenting problems and diagnosis. In addition to her clinical work, she has also worked with individuals, families, and couples in forensic and adult and juvenile justice settings. She has conducted therapy with independent practices, courts, hospitals, inpatient/residential sites, and community mental health settings. Dr. King has extensive experience working with children and adults experiencing major life transitions, behavioral/conduct issues, AD/HD and developmental disorders, among others. She has worked with individuals ranging from the age of three up into late adulthood, from diverse cultural backgrounds, and has provided group therapy for children, adolescents, and adults.
Evaluation Experience: Dr. King has experience conducting comprehensive psychological assessments across the lifespan. She was worked in a variety of settings conducting multidisciplinary, psychological, neuropsychological, and psychoeducational evaluations to provide diagnostic clarification and inform treatment. She has conducted evaluations addressing attention concerns (AD/HD), learning difficulties (LD), developmental deficits, emotional/psychological/behavioral functioning, memory, intellectual abilities (IQ), and executive functioning. She also has experience conducting assessments within the court systems, forensic settings, parental evaluations, as well as evaluations within hospital and school settings.
Research: Dr. King's conducted her doctoral research focusing on the impact of early onset substance use on the developing adolescent brain and assessed if changes in brain development would lead to incarceration via poor impulse control. She accounted for the systemic issues within the criminal justice system and looked at a variety of other variables including race, gender, socioeconomic status via education level, and geographic location of where the person was living across the country. Dr. King has further contributed to and been published in a variety of other research articles and psychology journals pertaining to topics involving criminal justice reform and the impact of substance use in various context with a variety of populations. 
Personal: Dr. King loves hiking and running in the mountains and spends most of her free time reading and completing puzzles. She enjoys going to concerts and traveling the country and overseas. She loves writing and spending her free time with her friends and family.