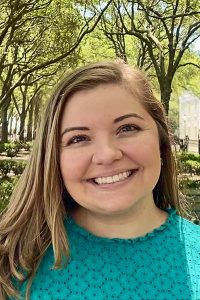 Ms. Rebecca Smith is a licensed clinical mental health counselor associate (LCMHCA). She received her Bachelor of Arts in Psychology from Meredith College and her Master of Science in Counselor Education from East Carolina University. Rebecca has over five years of experience in the mental health field. She has worked in a variety of settings including private practice, public schools, social services, university career counseling, and an autism intervention program. Rebecca obtained a Behavior Specialist Graduate Certificate, which allows her to assist with behavioral interventions for children in both school and home settings in addition to therapeutic settings. Rebecca is also a school counselor in Wake County where she supports students with disabilities, and those with social, emotional, or behavioral challenges to succeed in the educational setting. While Rebecca works primarily with children, adolescents, and families, she is trained to provide psychotherapy to individuals of all ages and enjoys working with clients across the lifespan.
Intervention Style: Rebecca's counseling style is strengths-based, person-centered, and solution-focused. She helps her clients develop skills and find solutions by focusing on what's already working for them and their unique strengths. Rebecca aims to meet clients where they are, understanding that there is no "one size fits all" approach. She enjoys using play and art therapy techniques in sessions. Rebecca recognizes the importance of the family system and may incorporate family members into a client's treatment.
Therapy Experience: Rebecca has provided counseling services to children and adolescents with anxiety, depression, Attention-Deficit/Hyperactivity Disorder (AD/HD; "ADD"), Oppositional Defiant Disorder (ODD), Disruptive Mood Dysregulation Disorder (DMDD), Autism Spectrum Disorder (ASD), and Posttraumatic Stress Disorder (PTSD). She has also helped children navigate peer and family conflict, low self-esteem, trauma, grief, family changes and divorce, bullying, emotional regulation, and identity issues.
Personal: In her free time, Rebecca enjoys spending time with her family, her dog, and her cat. She loves traveling, yoga, baking, movies, and learning new things.