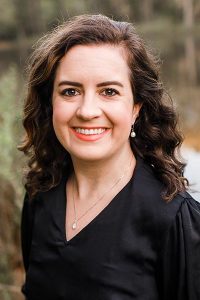 Before becoming a therapist, Carolyn Miller worked previously for many years in the legal realm and in higher education, where she developed skills in case management and conflict resolution. Because of her background, Carolyn understands the value of developing interpersonal skills, effective communication, and team building in academic and professional contexts, as well as in one's personal life. She helps individuals and couples navigate difficult personal environments and become effective communicators, especially during conflict. Currently a graduate student in the Clinical Mental Health Program at Gordon-Conwell Theological Seminary, Carolyn provides psychotherapy to teenagers, adults, and couples. She recognizes the deeply personal nature of all presenting problems and cultivates an empowering clinical environment for clients to face, name, and address struggles and challenges. Carolyn Miller is a North Carolina native and received her bachelor's degree from the University of North Carolina at Chapel Hill, later working at Duke University.
Intervention Style & Therapy Experience: Carolyn works with teenagers and adults experiencing issues including anxiety, depression, grief, loss, stress management in school and/or the workplace, women's issues (professional identity, self-worth, and body image), and religious trauma, to name a few. She has a special interest in working with individuals who are living with disabilities (physical and intellectual) or in proximity to someone in the disability community. Carolyn also helps couples learn to trust their partner and work together while maintaining self-respect and boundaries. As a therapist, she is sensitive to the potential influence of spirituality in the clinical space and fosters a safe environment for exploring it.
Carolyn's counseling style is person-centered and strengths-based. She respects the process of building accountability and trust in the therapeutic relationship – both are critical to creating a conducive clinical environment for reflection, healing, and growth. She also affirms the innate autonomy of individuals and believes through self-reflection clients can identify their personal strengths and act upon them. Her therapeutic approach is continuously empathic and incorporates Cognitive-Behavioral Therapy (CBT) and Emotionally Focused Therapy (EFT). Carolyn uses these empirically based modalities to help clients balance the mind, body, and emotions. She recognizes the profound impact of the family system, trauma, and interpersonal conflict and the complex nature of navigating temporary and permanent situations. Carolyn values providing feedback to clients throughout the therapeutic process and using psychoeducation to equip clients with available resources and tools. She believes therapy provides a distinct opportunity for clients to be unreservedly transparent, identify personal strengths, acknowledge challenges, and experience personal growth.
Personal: Carolyn enjoys spending time with her large family, attending performances at Durham Performing Arts Center (DPAC), and visiting the beach any chance she gets.