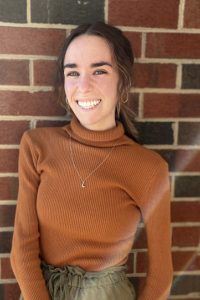 Ms. Meaghan Brackin is a licensed clinical mental health counselor associate (LCMHCA) as well as a certified rehabilitation counselor (CRC). She received her master's degree in mental health counseling and clinical rehabilitation from University of North Carolina at Chapel Hill, and has been working and volunteering in the field of mental health and human services for over six years. Meaghan has worked in a wide variety of settings, to include outpatient private practice, inpatient hospital care, school programs, and community mental health. She has experience providing psychotherapy and testing/evaluations. Her experience is across the lifespan, as she has worked with all ages, to include children, teens, adults. Meaghan also has specialized training for working with individuals with disabilities; certified rehabilitation counselors are the only professional counselors educated and trained at the graduate level specifically to serve individuals with disabilities.
Intervention Style: It's important to Meaghan that she help clients understand the value of their life challenges and find ways for it fortify their resilience and strength. She is positive, empathic, client-centered, provides attention to detail, and is willing to utilize new techniques and research to better assist clients with their needs. Meaghan integrates solution-focused techniques into a non-judgmental and supportive environment to empower clients to reach wellness. Using a person-centered and systems theory framework, she utilizes empirically-validated Cognitive-Behavioral Therapy (CBT), Dialectical Behavior Therapy (DBT), and Acceptance and Commitment Therapy (ACT) techniques in counseling sessions. In addition, she is trained in early autism intervention strategies (Applied Behavioral Analysis-ABA) with children. Meaghan enjoys working with a wide range of populations and presenting problems. She is passionate about meeting the person where they are to provide holistic and strength-based care.
Therapy Experience: Meaghan works with clients of all ages with a wide breadth of diagnostic challenges including depression, bipolar, generalized anxiety disorder (GAD), obsessive compulsive disorder (OCD), trauma to include physical/emotional/sexual abuse and natural disasters, posttraumatic stress disorder (PTSD), substance use disorders, personality disorders, relationship and social interactional challenges, autism spectrum disorder (ASD), attention-deficit/hyperactivity disorder (AD/HD; 'ADD'), and severe and persistent mental illness. Meaghan has clinical experience in diagnosis and assessment, even in clinically complex cases, and in providing therapy in both inpatient and outpatient settings. As a certified rehabilitation counselor, she is also specialized in working with clients with disabilities. Through a comprehensive and unique counseling process, rehabilitation counselors help individuals with disabilities set and achieve their personal, career, and independent living goals. Specific to work with clients who have experienced intimate partner violence, Meaghan completed her master's thesis on effective treatments for this population. In addition, Meaghan has also worked with previously incarcerated individuals on integration back into society, and with their families in supportive therapy.
Evaluation Experience: In addition to therapy, Meaghan also enjoys assessment work and is experienced in determining diagnoses and recommendations that support optimal care. Her breadth of evaluation training includes educational, ASD, rehabilitation, and disability evaluations with all ages.
Research: Meaghan's broad research experience includes the areas of neuropsychology and tests of executive functioning, personality development, rehabilitation and outcomes for individuals with brain injury, and intimate partner violence. In one study related to AD/HD testing, she evaluated the psychological properties of self-report measures, performance validity measures, and neuropsychological tests, analyzing the convergence of self-report versus performance-based measures of executive functioning. Two other studies related to personality development. Meaghan transcribed and coded qualitative interviews of black women's narratives and conducted statistical analyses of quantitative measures of stress, resilience, and well-being, analyzing the relationship between well-being and coping in black women. In research related to brain injury, she investigated the impact of the family on community integration and participation for individuals with brain injury, and investigated the impacts of brain injury on individuals who serve as primary caregivers. Lastly, her master's thesis focused on effective therapy for victims of domestic violence, titled 'Effective Treatments for the Persistent Negative Impacts of Intimate Partner Violence.' Her research resulted in the following professional presentations:
Simons, M.U., Rockhold, M.N., Brackin, M.E., Nitta, M. E., Ritchie, K. A., Hoelzle, J.B. (2019). The Utility of the CAARS Inconsistency Index in Detecting Feigned AD/HD in a Collegiate Population. Midwestern Psychology Association Conference, Chicago, IL. 
Brackin, M.E. How different coping strategies utilized by black women relate to levels of depression, anxiety, and well-being. (2019). Marquette Diversity in Psychology Research Conference, Milwaukee, WI.
Brackin, M.E. Exploring the Complexities of Traumatic Stress Presentation: Comorbidity, Symptomatology, and Behavior. (2020). Marquette University Research Symposium, Milwaukee, WI.