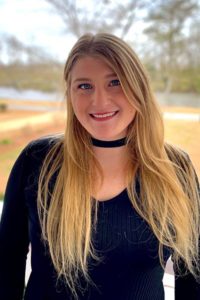 Dr. Maggie Carraway is a postdoctoral psychology fellow at Lepage Associates. She received her bachelor's degree in psychology with minors in criminal justice and Spanish at Appalachian State University in the mountains of NC, and a masters and doctorate degree in clinical psychology from Spalding University, where she also specialized in working with forensic populations. Dr. Carraway has worked in a wide variety of settings, including private practice, college counseling, inpatient psychiatric facilities, and prisons, and works with all ages. She has experience providing individual and group therapy, performing individualized psychological evaluations, conducting detailed forensic evaluations for federal courts, and providing multidisciplinary consultation. Some of Dr. Carraway's specific clinical areas of interest include trauma, maladaptive interpersonal patterns, mood concerns, and self-image issues.
Intervention Style: Dr. Carraway utilizes evidence-based approaches in therapy and intervention, primarily informed by cognitive behavioral (CBT) approaches including Acceptance and Commitment Therapy (ACT) and Dialectical Behavior Therapy (DBT), while remaining client-centered. She considers clients who seek treatment as stuck, rather than sick, in that they become trapped by ineffective ways of viewing themselves, others, and the world around them. She uses a collaborative and empathic approach in exploring clients' internal experiences to help them gain an increased sense of control over their lives, characterized by more adaptive ways of thinking. Her therapeutic style also emphasizes and harnesses clients' strengths as she empowers them to define and move towards living a life in line with their values. Her overall approach is integrative and holistic, carefully considering clients' unique cultural contexts, including how society oppresses and privileges aspects of their identity. At the heart of Dr. Carraway's clinical work is her emphasis on building a safe and supportive therapeutic relationship. She strives to show up in a genuine yet deliberate way to facilitate a working alliance based on interpersonal connection and trust. She also incorporates a sense of humor and creativity within the context of intervention. Dr. Carraway hopes to offer a nonjudgmental and safe space that promotes the self-growth and healing all human beings are worthy of.
Therapy Experience: Dr. Carraway enjoys working with individuals of all ages.. She has worked with people on a variety of challenges such as anxiety, depression, interpersonal difficulties, stress management, substance abuse, low self-esteem, and emotion regulation deficits, to name a few. She has extensive experience working with individuals with histories of trauma and related mood and behavioral concerns. She has also worked thoroughly with individuals from diverse backgrounds who are going through difficult periods of transition, such as exploring their sexual and gender identities or navigating intersecting cultural identities. Additionally, her group therapy experience includes coping skills groups, trauma-focused groups, relapse prevention and other substance abuse-related groups, and anger management groups.
Evaluation Experience: Dr. Carraway has experience conducting comprehensive assessments across the lifespan. She has worked in a variety of settings conducting detailed psychological evaluations to answer a variety of referral questions, such as to provide diagnostic clarification or to inform treatment. Specific diagnostic questions include academic and intellectual functioning concerns, maladaptive personality functioning, gender dysphoria, mood disorders, and behavioral issues. Additionally, Dr. Carraway has conducted court-ordered forensic evaluations in correctional settings on issues such as competency to stand trial, neuropsychological functioning, mental status at the time of the alleged offense, and sexual dangerousness.
Research: Dr. Carraway's primary research interest area is offender reentry. Her dissertation focused on motivations of faith-based reentry program volunteers to help volunteer recruitment and retention efforts for reentry programs. She has also conducted a systematic literature review on the effectiveness of community-based mentoring services for ex-offenders. Dr. Carraway has produced other applied research to fulfill specific needs in her community through collaboration with various non-profit organizations, with the goal of advocating for meaningful systemic change. As an example, she evaluated a local community program that helped underserved women achieve self-sufficiency through social networking.
Personal: Dr. Carraway grew up in North Carolina, and she loves all things outdoors such as hiking, skiing, and lying in her hammock. She especially enjoys spending time in the mountains of NC where she completed her undergraduate education. Dr. Carraway also loves spending quality time with her friends and family, and loving on her pet rabbit, Bun Bun.