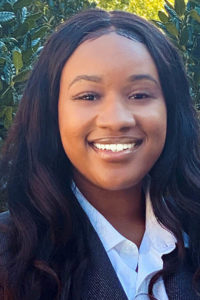 Ms.Buckner is a psychologist at Lepage Associates currently completing her NC licensure as a psychological associate (LPA). She received her B.A. in Psychology from The University of North Carolina at Greensboro and subsequently earned an M.A. in Clinical Psychology from North Carolina Central University. Ms. Buckner has 10 years of experience working and in the mental health field. She has a dual interest in clinical work and social science research therefore she possesses experience in both arenas. Ms. Buckner has coordinated research initiatives examining the interplay between lifestyle factors and mental health, and marries this knowledge with her clinical work. Her clinical work includes private practice as well as inpatient and residential mental health settings with children, adolescents, and adults.
Intervention Style: Ms. Buckner is a firm believer in working collaboratively with clients to create a therapeutic alliance that empowers and encourages them to embrace their unique journey through life. Ms. Buckner fosters this through the use of unconditional positive regard, encouragement, support, and by creating a non-judgmental atmosphere for clients. Ms. Buckner uses an individualized approach to create goals for therapy, and is well-versed in treatment modalities such as Mindfulness-Based Cognitive Therapy, Narrative Therapy, Client-Centered Therapy, and Solution-Focused Therapy. When working with children and adolescent clients, she applies creative, interactive, and play therapy techniques and encourages strong family support as well.
Therapy Experience: Ms. Buckner has experience assessing, diagnosing, and treating a wide array of child/adolescent and adult mental health concerns. She has worked with children, adults and and families struggling with AD/HD, academic underachievement, learning disability, depressive disorders, anxiety disorders, self-esteem and confidence issues, eating disorders, body-image and body dissatisfaction, sexual identity, mood disorders, parenting difficulties, and stress-related disorders.
Evaluation: Ms. Buckner has experience conducting comprehensive psychological assessment with children, adolescents, and adults within a myriad of domains including but not limited to, intellectual functioning, adaptive functioning, behavioral and emotional concerns, personality assessment, and other commonly seen concerns. She provides educational, psychological, substance abuse and forensic evaluations for all ages.
Research: Ms. Buckner's research has included working on a NCCU community initiative exploring health disparities in African Americans residing in rural communities, specifically examining the impact of sleep and other lifestyle factors on depressive symptomatology, and serving as a research assistant for a longitudinal study funded by the National Institutes of Mental Health examining emotion regulation and development over time.
Personal: During her free-time Ms. Buckner enjoys a wide array of hobbies and leisure activities. Some of these include travel, tennis, Pilates, cooking, family time, and everything related to beauty and fashion.