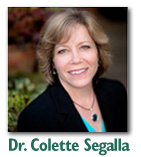 Dr. Colette Segalla provides therapy and evaluation services to individuals of all ages. She brings a wealth of experience to her work in clinical psychology with a rich, diverse background of working with adults, adolescents, and children in various contexts. She  has a strong interest in working compassionately with clients on a holistic path to alleviating problems, and includes self-discovery and exploration as well as skill building, communication improvement, and brainstorming changes a person can employ to improve their day to day life and sense of well-being. Dr. Segalla uses an integrative approach to therapy including cognitive-behavioral therapy (CBT), psychodynamic psychotherapy, and supportive therapy. She is also trained in 'depth-oriented' psychology and can explore symbolism revealed in dreams, fantasies, and personal stories. In addition to her Ph.D. in psychology, she completed extensive Leadership Training where the emphasis was on helping people achieve their full potential, and is licensed in NC.
Expertise with Adults: Dr. Segalla is experienced with adults in individual, couples, and group therapy, as well as parental guidance counseling/coaching. She has worked extensively with adults experiencing anxiety, depression, grief, trauma, eating and body image issues, and general life stress. Her specialized training is in alcohol and substance abuse counseling, therapy with diverse populations, and human sexuality with an emphasis on adult sexual relationships. She enjoys helping each unique adult figure out how to feel better, solve any problems they are experiencing, and achieve more satisfaction in their life. Her couple's therapy work has included helping couples overcome individual and relational challenges, and balancing one's own needs with the needs of a spouse, partner, or children. Dr. Segalla enjoys working with couples, helping them work toward common ground in a marriage or partnership while maintaining or creating space within the marriage for personal growth. She has worked with blended families and the particular issues that arise for stepparents and stepchildren. Dr. Segalla has a diverse range of experience with couples from those seeking pre-marital counseling before a marriage commitment to long term marriages seeking greater satisfaction, renewed sexual intimacy, and greater harmony within their marriage. She has also worked with individuals and couples seeking assistance in the peaceful dissolution of a marriage that no longer meets the needs of the marriage partners, and has experience helping separating or divorced couples work on cooperative co-parenting. In addition to her therapy experience, she also provides psycheducational evaluations for college students and psychological evaluations for all adults.
Expertise with Children: Dr. Segalla is experienced in play therapy with young children, therapy for teenagers, and psychological and educational evaluations for children and adolescents. Her child work with pre-teens has spanned the range of common childhood problems, such as school anxiety, behavioral acting out, social skills and peer relational problems, and childhood depression. With teens she is experienced working with the issues specific to the transitional period of adolescence when identity development, emotional self-understanding, and interpersonal relationships become so important. She has worked with a range of teen issues from anxiety and depression to eating disorders, early trauma, substance abuse, and the struggle to attain independence. She enjoys working with adolescents and helping them find their unique path in life. Her doctoral dissertation was about the spiritual development of children and the importance of a relationship with nature in this development. She participated in a two-year co-research project, The Inner Life of the Child in Nature, at The Center for Education and Imagination in the Natural World. Prior to a career change into psychology, Dr. Segalla was a teacher and has extensive experience in education, certified to teach at both the elementary and secondary levels. Her background in education and experience with children and adolescents in an academic environment make her an excellent resource for parents with children whose issues affect their academics. She has additional training and experience in working with children and teens who have learning disabilities (LD), and Attention-Deficit/Hyperactivity Disorder (AD/HD or 'ADD').
Dr. Segalla is trained in 'depth-oriented' psychology with an emphasis on the analytic psychology of Carl Jung. Her training involves the use of psychoanalytic principles as well as the Jungian concept of archetypes as revealed in dreams, fantasies, and personal stories.